The local organizing committee wishes to thank all participants for a very successfull conference!
You can find some of the images in the
gallery
. Additionally, you can download
plenary lectures' presentations
as well as all the presentations from the
panels
.
Please beware of invitations for publishing from journals not related to the conference! Official invitation will be distributed only from the sdewes conference email, and will have a conference header and an option to accept or decline the invitation.
For all attendees who have submitted a full paper which is included in the proceedings, please cite it as follows:

N1. Surname1, N2. Surname2, other authors, Title, Proceedings of the 9th Conference on Sustainable Development of Energy, Water and Environment Systems, SDEWES2014.nnnn, 1-m (2014)
(where "nnnn" is your submission code and "m" is the page count of your submission)
If you attended the conference, make sure you log in into the conference system and fill our
post-conference survey
.
Please book your flights on time as Venice is the top world tourist destination.

Please read **this information** before planning your transportation method and trip to Venice.

The cruiser MSC Preziosa is both the venue and the place of accommodation for participants of the SDEWES2014 Conference. The MSC Preziosa is a part of the MSC Cruises fleet. MSC Cruises is a leader in the Mediterranean cruise market, sailing in the region throughout the year, as well as offering a wide range of seasonal itineraries in Northern Europe, the Atlantic Ocean, Caribbean and the Antilles, South America, South Africa, the Canary Islands, and The United Arab Emirates.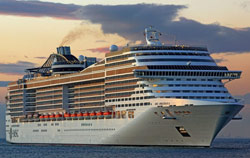 At the moment all the cabins that were offered through our booking agent BIZZ Travel are sold.
If you still would like to attend the SDEWES2014 Conference we advise you to inquire your local tourist agencies specialised in cruises about available cabins (prior paying your Conference fee).
Also you can check with MSC Cruises which are those agencies in your area: http://www.msccruises.com/.
Included:
- accommodation
- accommodation
- 5 meals a day (breakfast, lunch, afternoon snack, dinner, midnight buffet
- 24-hour Room Service (all passengers can use Room Service facility to order extra snacks and drinks or to request information or assistance)
- swimming pool, sports facilities, fitness
- kids Club programs (there is an exceptional programme of activities for children, which run from early morning to early evening)
- captain's cocktail party
- nightclubs, casino, disco (there is no entrance charge for any of the nightclubs or discos or casino on board the ship)
- broadway Style Shows (all evening shows, from musical medleys to dramatic theatre productions are open to everyone)
- Library and Card Room and other onboard activities from quizzes to hobbies
- animation
Not included:
- gratuities of € 7 per person per night of cruise (to be paid at the cruise)
- shore excursions
- travel insurance
- drinks (coffee, tea and water in the self-service restaurant are free)
- SPA and other wellnes services
- other personal expenses on board (laundry, telecommunications, Internet Cafe etc.)
- health services in the ship infirmary
- airport transfers

Dinner
is served in the restaurants in two sittings. All SDEWES2014 participants and their accompanying persons are under a same SDEWES group code which has a later dinner (sitting) at 20:45h at Golden Lobster restaurant. However, for
lunch
participants can choose to eat in any restaurant. Here you can see a list of all restaurants on board of MSC Preziosa:
http://www.msccruisesusa.com/us_en/Ships/MSC-Preziosa/Restaurant.aspx
.
Cabin description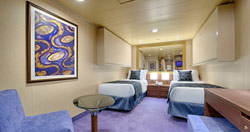 Inside cabin:
(from ≈13 to 16 m2)
Double bed can be converted into two single beds.
Air conditioning, bathroom with shower, interactive TV, telephone, availability of internet connection by your own laptop (on payment), mini bar, safe deposit box.
For a virtual tour of the room, please visit
here
.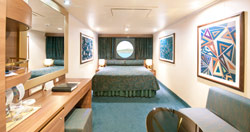 Cabins with porthole:
(from 12 to ≈20 m2)
Double bed can be converted into two single beds.
Air conditioning, bathroom with shower, interactive TV, telephone, availability of internet connection by your own laptop (on payment), mini bar, safe deposit box.
For a virtual tour of the room, please visit
here
.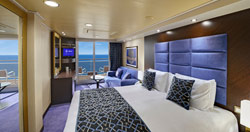 Balcony cabins: (from 17 to 26 m2)

Double bed can be converted into two single beds.
Air conditioning, spacious wardrobe, bathroom with shower or bathtub, interactive TV, telephone, availability of internet connection by your own laptop (on payment), mini bar, safe deposit box.

For a virtual tour of the room, please visit here.


MSC PREZIOSA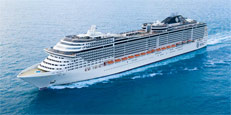 MSC Preziosa is Fantasia-class cruise ship owned and operated by MSC Cruises. She entered service in March, 2013.
The ship is 333.3 meters in length and is 38 meters in width. It can travel at a speed of up to 23.7 knots (43.9 km/h; 27.3 mph). With 1739 staterooms, she has over 100 more staterooms than her sister ships. Naval architect De Jorio Design International also introduced a completely redesigned deck, in addition to a new restaurant. The
MSC Yacht Club
has been enlarged.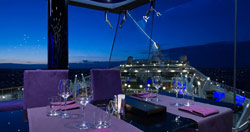 Preziosa has a revised rear-lounge, new "4D" cinema, casino and disco in addition to a new "infinity pool" for adults only. Below decks the award-winning
MSC Aurea Spa
offers beauty and wellness treatments that will sooth away the tensions of everyday life, whilst the high end luxury of MSC Yacht Club's exclusive suites, butler service, dedicated facilities and private decks remain the toast of luxury cruising. There are many bars and lounges, like the Sports Bar and Diner with its bowling alley and F1 simulator, restaurants like
Eataly
where the best of Italian cuisine can be sampled in a sophisticated, minimalist environment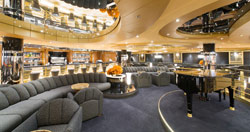 or the exclusive
Ristorante Italia
, where a seriously upscale menu is available every night.
For the youngest guests there is the one-off wonderland that is
Doremi Castle
. This spectacular aqua park will keep kids entertained – and thoroughly soaked – for hours. Not exclusively for the young, but aimed squarely at the young and adventurous at heart,
Vertigo
is the longest single-rider waterslide afloat. This twisted 120 metre monster takes riders on a thrilling ride from Deck 18 out over the sea and back for happy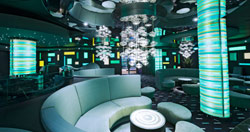 landings on the decks below. Vertigo was awarded the 'Best Innovation' by Cruise International in 2013. For more serene aquatic pleasures there's a dreamy 'infinity' pool and, just so that the odd spot of inclement weather cannot spoil your fun, there's even a retractable roof on one of the main pools. For sun-worshippers looking for peace and tranquillity the
Top 18 area
dedicates premium deck space and stunning sea views to adults who'll appreciate its dedicated spa service, bar menu and complimentary fruit skewers.
MSC Preziosa is suitable for up to 4.345 passengers that can choose various cabin types.
Surface area is 450.000 m2, including 27.000 m2 public area on 18 decks.
To explore groundplans of the ship please click
here
.
For more information and photos of the ship please look
here
.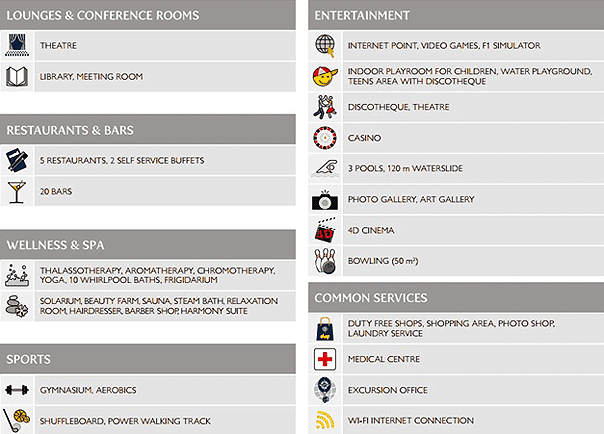 As a leading member of the European Cruise Council (ECC) MSC Cruises has agreed to promote a transparent and sustainable cruise industry; to lead the development of uniform environmental standards; share lessons learned and good practices; to establish and maintain partnerships, co-operation and open constructive dialogue with relevant maritime authorities and other stakeholders; to encourage increased availability of appropriate reception and recycling facilities at major European ports, improve energy conservation, increase recycling and reduce waste.
Find out more about MSC Cruises efforts to protect the environment on this link.
Find our more on cities and countries we shall visit.