The local organizing committee wishes to thank all participants for a very successfull conference!
You can find some of the images in the
gallery
. Additionally, you can download
plenary lectures' presentations
as well as all the presentations from the
panels
.
Please beware of invitations for publishing from journals not related to the conference! Official invitation will be distributed only from the sdewes conference email, and will have a conference header and an option to accept or decline the invitation.
For all attendees who have submitted a full paper which is included in the proceedings, please cite it as follows:

N1. Surname1, N2. Surname2, other authors, Title, Proceedings of the 9th Conference on Sustainable Development of Energy, Water and Environment Systems, SDEWES2014.nnnn, 1-m (2014)
(where "nnnn" is your submission code and "m" is the page count of your submission)
If you attended the conference, make sure you log in into the conference system and fill our
post-conference survey
.
For joining the cruise you must have a valid and appropriate passport (valid for at least six months beyond the date of your scheduled return would be advised) and if necessary, a valid and appropriate visa or permit (collectively "Travel Documents"), for all scheduled Ports at which the Cruise Ship is scheduled to stop for the duration of your Cruise. MSC is not responsible for ensuring that you have all necessary Travel Documents. You must present the necessary Travel Documents for inspection as required on entering and exiting any Port.

IMPORTANT: Whether you need a visa or not depends on your nationality, what countries are you visiting, are you disembarking the cruise ship at the various ports of call or simply transiting through.

IMPORTANT:
You will not be able to get a visa without a ticket for the cruise so please book your accommodation as soon as possible.
The cruise will involve the following countries: Italy, Greece, Turkey and Croatia. Out of these four, Schengen visa can be used for all except for Turkey. The Schengen Agreement that governs the European Union (EU) member states indicates that certain nationalities require a visa to enter the EU zone.
Turkey has a special visa regime for cruise passengers. Foreigners who are travelling to Turkey by cruises are allowed to enter Turkey without visa for a maximum period of 72 hours. A document called One Day Landing Card can be issued to all passengers when getting of the cruiser in Turkish ports. It is necessary to have a valid passport (valid for at least three months beyond the date of your scheduled return is minimum for most nationalities but six months is advised).
There are four types of Schengen visas, but type C (multiple entry) is the one typically needed by cruise passengers. It can be issued by any one of the "Schengen States" and is valid for all of the others (including Croatia).
Check here the visa requirements for the countries that are included in the trip:
http://www.esteri.it/visti/home_eng.asp
(Italy)
http://www.mfa.gr/en/visas/visas-for-foreigners-traveling-to-greece/
(Greece)
http://www.mvep.hr/en/consular-information/visas/visa-requirements-overview/
(Croatia)
NOTE: If you plan to embark on the cruise in Istanbul you need to meet the requirements of the Turkish visa regime, regardless of the special cruise visa regime. Please check here is Turkish visa necessary for your country:
http://www.mfa.gov.tr/visa-information-for-foreigners.en.mfa
Turkish visa can be easily obtained online here:
https://www.evisa.gov.tr/en/
.
For more details please see
Visa policy in the European Union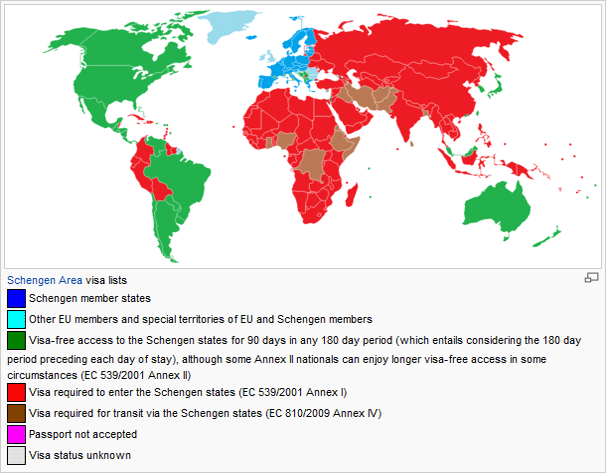 Click on the picture for larger preview.
For further information concerning visas please contact the
Conference Secretary
.